---
Currently Viewing Mobile Version
---
Switch to Standard Version
ONEBLINDGUY dot COM. Master Your Universe
Blog Musings. One Blind Guy

February 7, 2018: Anyone who has spent any time following Jim Jordan simply comes away with the realization that Jimleft the reality train long ago. Jim has been given a ride allowing this foolishness to go on for way too long! It's about time to give the man his pink slip. November is your chance!

Jim Jordan has amassed a ton of credit hours for his resume. I'm not sure that alot of it has stuck or made Jim savvy of the complications in today's world. 1. The University of Wisconsin, Madison, bA - economics. 2. The Ohio State University, Columbus, MA - Education. 3. Capital University Law School, Columbus, JD. With all this education, one would think there would be greater return. But, Jim has shilled a tonic of trickle-down economics and deficit reduction no matter the social results. Jim is a strict constitutionalist, again, no matter the social ramifications. Perhaps, next, we will hear him asking for a return to the gold standard or the abolishment of the Federal Reserve! Furthermore, Jim is a political career junkie, although, he would like you to think otherwise! For more, read Ballotpedia Jim Jordan, which provides a history of committees he has served and voting records.

An excellent read ... Jordan, joined by another leading House conservative, Rep. Mark Meadows (R-SC), has also called for Trump to fire Jeff Sessions so he can put a new attorney general in place who would oversee (and presumably quash) the Russia investigation. This is part of a broader conservative effort to discredit the Mueller investigation, which in turn is part of a broader conservative counternarrative on the whole Russia scandal ... Read More.

Stroke of perfection. This billboard hits the nail on the head! A putin puppet? Yes. You might say who is Rep. Jim Jordan working for? Sure ain't Ohio! Photo. A billboard From the Lima, Ohio area with Jim Jordan's face and text stating "is Putin paying Rep. Jim Jordan to stop FBI's Russian investigation?"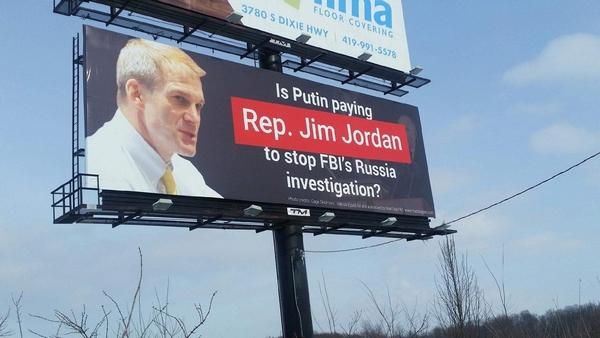 ---
February 1, 2018: I, like many, listened to the President's State of the Union address. I came to the conclusion that, the messenger, not the message, was inferior. Not that I agree with the policy objectives in the writing, but, I find it well crafted. The craftmanship isn't the problem. The way in which the message was trumpeted is the problem. Donald Trump is a terrible speaker. How did I come to this conclusion? Simple. I found the text of the speech and recorded the same while my screenreader was speaking the text.

I am using a speech engine that is old, but, entirely useable. One major plus, was that the speech was whittled down from 1 1/2 hours to 26 minutes. If time is money, that saves a bushel of bucks! For you tech types, I am using Microsoft Sam with my 13 year old laptop computer running Windows XP. Needless to say, the voice is still a good one even though other newer realistic voices come with my Amazon Fire tablet. Those voices would blow you away. But, even with this lowly text-to-speech voice, the president is left in the wake!

Donald Trump is not an orator of substance. Looking at this from an other perspective, it's an opportunity. Next time the State of The Union comes around let's place a computer reading the text by screenreader just as is being done now. The speech would be shorter if read this way. And, more legible. Let's do it! Hey, Donald. You'd have more time to read your favorite graphic novel. Or, play a round of golf!

The complete speech in this format is below. Give a listen. Note: The audio file is well done. If it happens to be garbled, probably the strength of your broadband. You can find the original files in mp3 and ogg file format here and download and listen on your favorite device/app.
William Brandes the owner of William Brandes Consulting, Tiffin, Ohio with twenty years experience in website design, server-hosting, online marketing, and, lives with his wife Pam and two adult children. William is a power user of adaptive technology, enjoying reading (Kindle/Windows tablet/VR Stream), playing guitar and golf in his spare time. How does your website rate, especially when it comes to accessibility? For William digital technology isn't an option, it's an essential part of the accessible world!
---
Print Version
---
Site Design by William Brandes Consulting
---
Site Powered by CMSimple
---
TOP